Gambling in the Philippines

Online gambling is a popular pastime in the Philippines. With many Filipino residents accessing the internet, online gambling has become an easy and convenient way to gamble for real money.
There are many different types of online gambling available to Filipino players, including sports betting, casino games, lotteries, and more. Online bets are regulated by the Philippine Amusement and Gaming Corporation (PAGCOR), which issues licenses to both land-based and online game operators.
Online casinos accept Filipino players
Popular online gambling games in the Philippines
Casino games: One of the most popular forms of gambling in the Philippines. Online casinos offer various games, including slots, blackjack, roulette, and baccarat. Filipino players can also enjoy live dealer casino games.
Sports betting: A popular way to make a bet and win money. There are many different sports that Filipinos bet on, including basketball, football, boxing, and mixed martial arts. Philippine-based online sportsbooks offer a wide variety of betting markets for Filipino players.
Lotteries: The Philippine Charity Sweepstakes Office offers many lottery games, including the SuperLotto 6/49. Moreover, Filipinos can also play international lotteries, such as the US Powerball and the EuroMillions.
Related: The future of gambling in Asia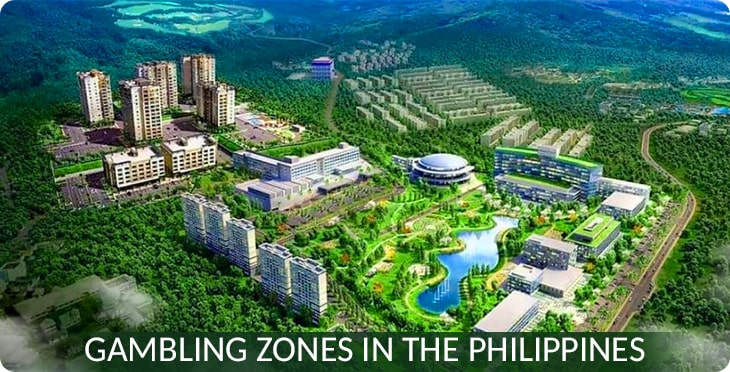 Bonuses in the Philippines casinos
Casino bonuses are one of the most important reasons players gamble online. Philippines gambling sites certainly don't disappoint their gamblers. In fact, many of them offer some of the best casino bonuses in the industry.
If you're looking for a gambling site that offers generous bonuses, you'll definitely want to check out what casinos sites offer. Here are just a few of the many great casino bonuses that you can take advantage of:
No Deposit Bonuses: As the name suggests, these bonuses don't require you to deposit to receive them. They're usually given as part of a welcome package or as a way to attract new players. Moreover, you can use them to play various casino games.
Welcome Bonuses: When players make their first deposit at an online casino, they get welcome bonuses. For example, if you deposit $100, a casino might give you a $100 bonus, resulting in a total of $200 to play with.
Reload Bonuses: Reload bonuses will get those players who reload their accounts with more money. Like welcome bonuses, they usually match bonuses. So, if you deposit $100 and the reload bonus is 100%, you'll get an additional $100 to play with, for a total of $200.
Loyalty Bonuses: Players can expect these bonuses if they frequently play at a particular online casino. As an award, it can be points, which you can change for cash or other prizes.
So, if you're looking for generous casino bonuses, you should check out what their loyalty programs offer. You can be sure to find plenty of great offers that will help you boost your bankroll and give you more chances to win big!
Deposit methods
There are several deposit methods available for players. The most popular method is credit cards, which provide a quick and easy way to fund your account. Other methods include e-wallets, bank transfers and prepaid cards.
Credit cards are the most widely accepted payment method for online gambling in the Philippines. Visa and Mastercard are both accepted by most casino sites, and this is the easiest way to fund your account. Simply enter your credit card details when prompted, and you will get your funds instantly.
E-wallets are another option for funding accounts. These allow you to store your money in an online account and then use it to make deposits. The most often used e-wallets are Skrill and Neteller.
Bank transfers are also an option for funding accounts. It involves transferring funds from your bank account into your account. The process can take a few days to complete, but it is a safe and secure way to fund your account.
Prepaid cards are another option for online gambling. These work similarly to credit cards, but you preload them with funds before using them to deposit at casino sites. One of the most common prepaid cards is EntroPay.
Related: Paysafecard to deposit at an online casino
Other gambling games in the Philippines
Cockfighting is one of the most popular activities in the Philippines. It is a blood sport in which two cocks (male chickens) are pitted against each other in a fight to the death. Cockfighting is illegal in many countries, but it is still widely practised.
As a money-making game, players often choose Mahjong. It is a Chinese game that is similar to rummy. One of the features is that Mahjong typically plays four players for money or points.
Bingo is a game that uses cards containing numbers. Players mark off the numbers on their cards as they are called out, and the first person to complete a row or column of numbers wins the game. Funny fact, but cigarettes or candy are prizes in this Bingo.
Horse racing is another form of gambling. There are several race tracks around the country, and betting in horse races is very popular among players who prefer to play for money.
Philippines gambling laws
Gambling in the Philippines is illegal. However, some forms of it are allowed, such as casinos, horse racing, and lotteries. Online casino is not specifically regulated here but is generally prohibited. Some attempts have been made to regulate online games, but so far, these have not been successful.
The country has a long history of gambling. Casinos have been operating since the early 20th century, and gambling is popular among many Filipinos. However, the government has taken steps to crack down on casino games in recent years, and there are now only a handful of casinos operating in the country.
While gambling is illegal, there are still many people who gamble. The main reason is that it's a way to make quick money, and there are no real consequences for getting caught. However, if the police catch you, you may go to jail.
If you want to gamble, you must find an underground casino. These are not always easy to find, but they do exist. You can also try your luck at online websites that are not always legal and risk your money.
FAQ
What is illegal gambling in the Philippines?

Citizens can go to one of the Cagayan or Manila Bay to play at a land-based casino and find where to make a bet. If you are more interested in online casinos, go to the main page of 50-spins.com and find a website where you will play.

What deposit methods are used for online gambling in the Philippines?

Players can use Visa, MasterCard, Neteller, Skrill, Wire Transfers, and cryptocurrencies. We also have to say that deposit methods depend on the casino. Besides, you need to know that bets in online casinos make in USD or euro. Nevertheless, due to exchange, it doesn't matter what currency you use.

How to use Ethereum for online gambling in the Philippines?

You need to find a casino that accepts Ethereum. You will find all information about payment methods at the bottom of the casino's website.
Conclusion
Overall, online gambling in the Philippines is a safe and easy way to enjoy your favourite casino games. There are many different deposit methods available, so you can choose the one that best suits your needs. Whether you prefer to use a credit card, e-wallet or bank transfer, you'll find plenty of options available.