Last updated on March 30th, 2022 at 03:16 pm
The company's achievements
Over the years, Endorphina has gained recognition by becoming a slot machine manufacturer favorite with many players, popular with casino operators, and winning awards in online gambling.
In September 2017, Endorphina's games won the first honor at the Entertainment Arena Expo, held in Bucharest, Romania. The provider's online slots were named 'Product of the Year'.
In 2015, Slots Guide named Endorphina "Best Slots Developer of 2015". The same publication singled out the new slot machine Ninja, awarding it second place in its ranking of the best online slots of 2015. The Satoshi's Secret slot machine became Slots Guide's Readers' Choice 2015.
Other achievements by the company also include entering the cryptocurrency gambling market. In collaboration with casino platform developer SoftSwiss, Endorphina has made it possible to play casino games using bitcoins and has even dedicated a slot machine called Satoshi's Secret to the popular topic of cryptocurrency and blockchain.
Endorphina slot machines winnings
The Endorphina prides itself on casino players' winnings from the provider's casino games. Although there are no progressive jackpot games in the manufacturer's portfolio, other slot machines delight players with a desirable frequency with considerable payouts.
Here are just a few examples of winnings in Endorphina games received by players since 2017:
| | | |
| --- | --- | --- |
| Slot machine | Multiplier | Winning |
| Almighty Sparta | x2326 | $ 1100,41 |
| Little Panda | х1822 | $41265.33 ($0.58 bet per spin) |
| Twerk | х3021 | $2077.71 (50 cents bet) |
| Gems and Stones | х916 | $6303 |
| Minotaurus | х1160 | $3191 |
Endorphina slot machines variety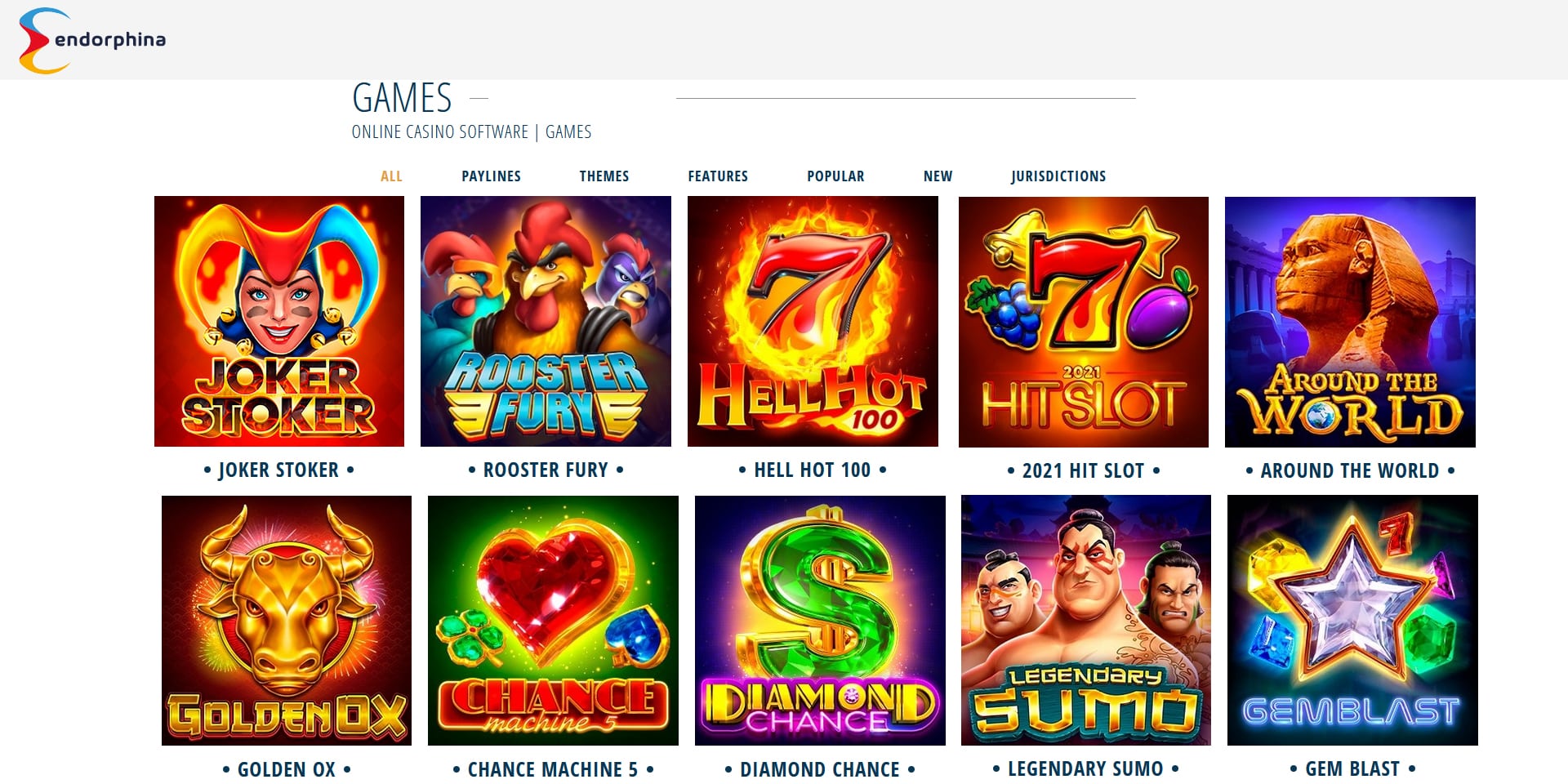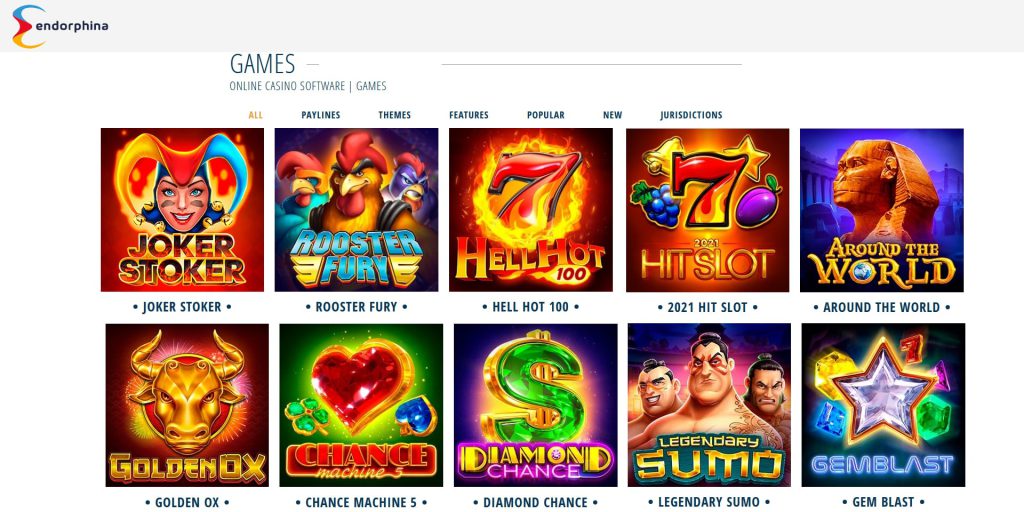 The gaming functionality of Endorphina slot machines is varied. Players will find slot machines in the company's portfolio with the most popular game features. Each player will find a feature: multiplier, free spins, wilds.
Casino games with wild and scatter symbols are the most common slot machine features and are also present in most Endorphina games. Wild symbol substitution and additional pay line win for scatter symbols are available in Lucky Dice 1, Sugar Glider, Dia De Los Muertos, In Jazz, Fairy Tale, Macarons, The King, and over 50 other casino games.
The free spins feature will appeal to players who want to take advantage of every spin. We suggest trying free games such as Mystery of Eldorado, Voodoo Dice, Vikings, Geisha, Football, Ice Pirates, The Vampires, and others in the Casino Joy or Golden Star casino.
Multipliers in the casino games increase bets on a spin from 2 to over 2000 times. They are integrated into most of the provider's games: Ancient Troy Dice, #luxurylife, Taboo, Durga, Diamond Vapor. Gamblers will find other bonus games with a choice of bonus features in Kamchatka, 7UP!, Cuckoo, Twerk, Satoshi's Secret, Pachamama, and The Vampires slot machines.
The Gamble feature can instantly increase 2, 4 or more times the amount already won in a spin and adds excitement to the game. Gamble features in the Endorphina slot machines: Lucky Lands, Football Superstar, Tribe, Slotomoji, Chunjie, Jetsetter, The Ninja, Origami.
Features and benefits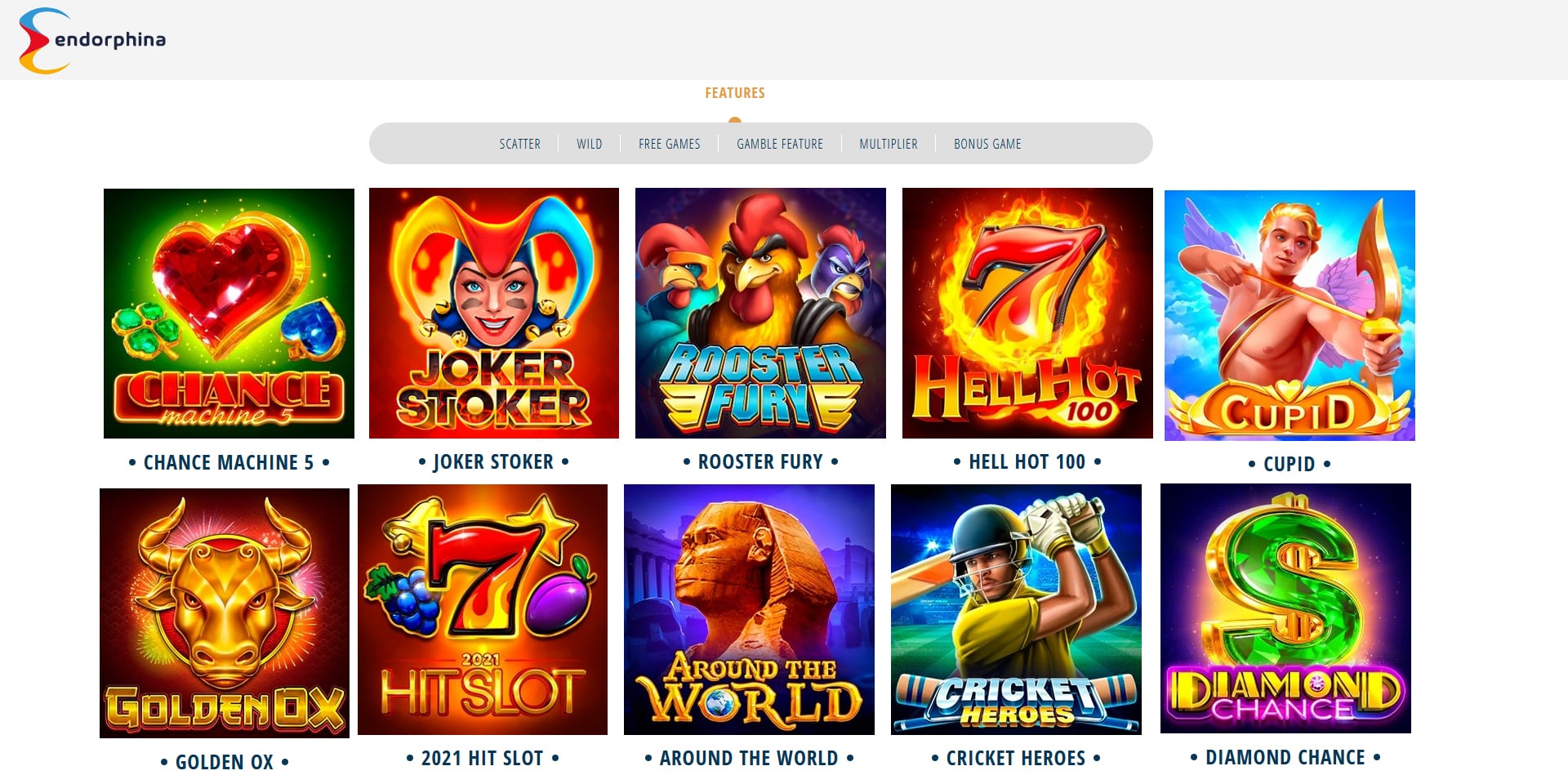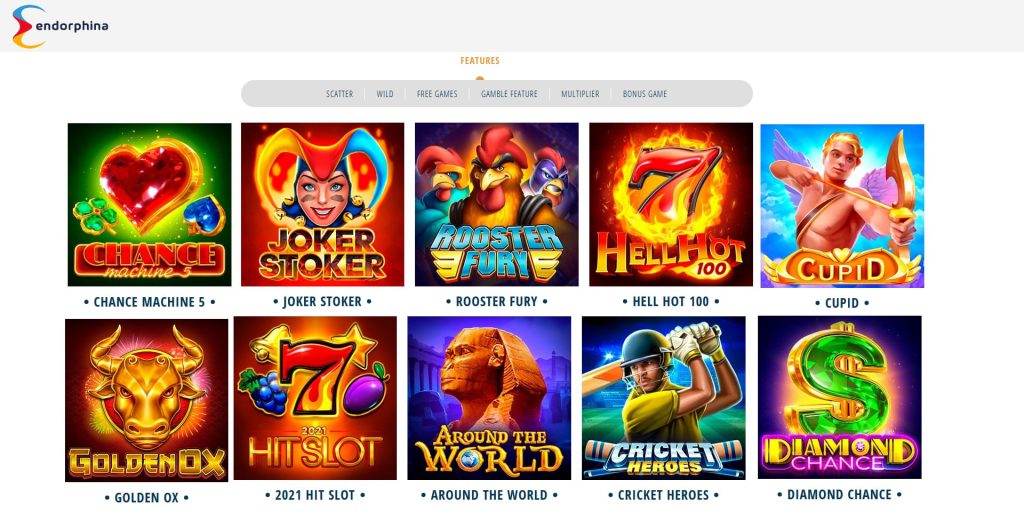 In addition to the theme and the use of cryptocurrency, Endorphina slot machines are characterized by:
The use of three-dimensional graphics;
The presence of the storyline and commercials before you start the reels;
Original bonus features;
Compatibility with any device through the use of format HTML5.
| | | | |
| --- | --- | --- | --- |
| Title | RTP (%) | Volatility | Features |
| Voodoo | 96 | High | Free spins, Wild, Scatter, Expanding symbols |
| Geisha | 96 | Medium | Free spins, Wild, Scatter, Expanding Symbols |
| The King | 96 | Medium | Free spins, Wild, Scatter |
| Football | 96 | Low | Free spins, Wild, Scatter |
| Gem Blast | 96 | Medium | Re-spins, Risk Games, Wild, Expanding symbols, Stacked symbols |
RTP slot machines.
Endorphina online slots themes
It's hard to find another online casino game provider with different game themes. The approach to design, themes, and their unfolding in terms of execution of the graphic elements of online slots and the selected music makes every Endorphina video slot memorable.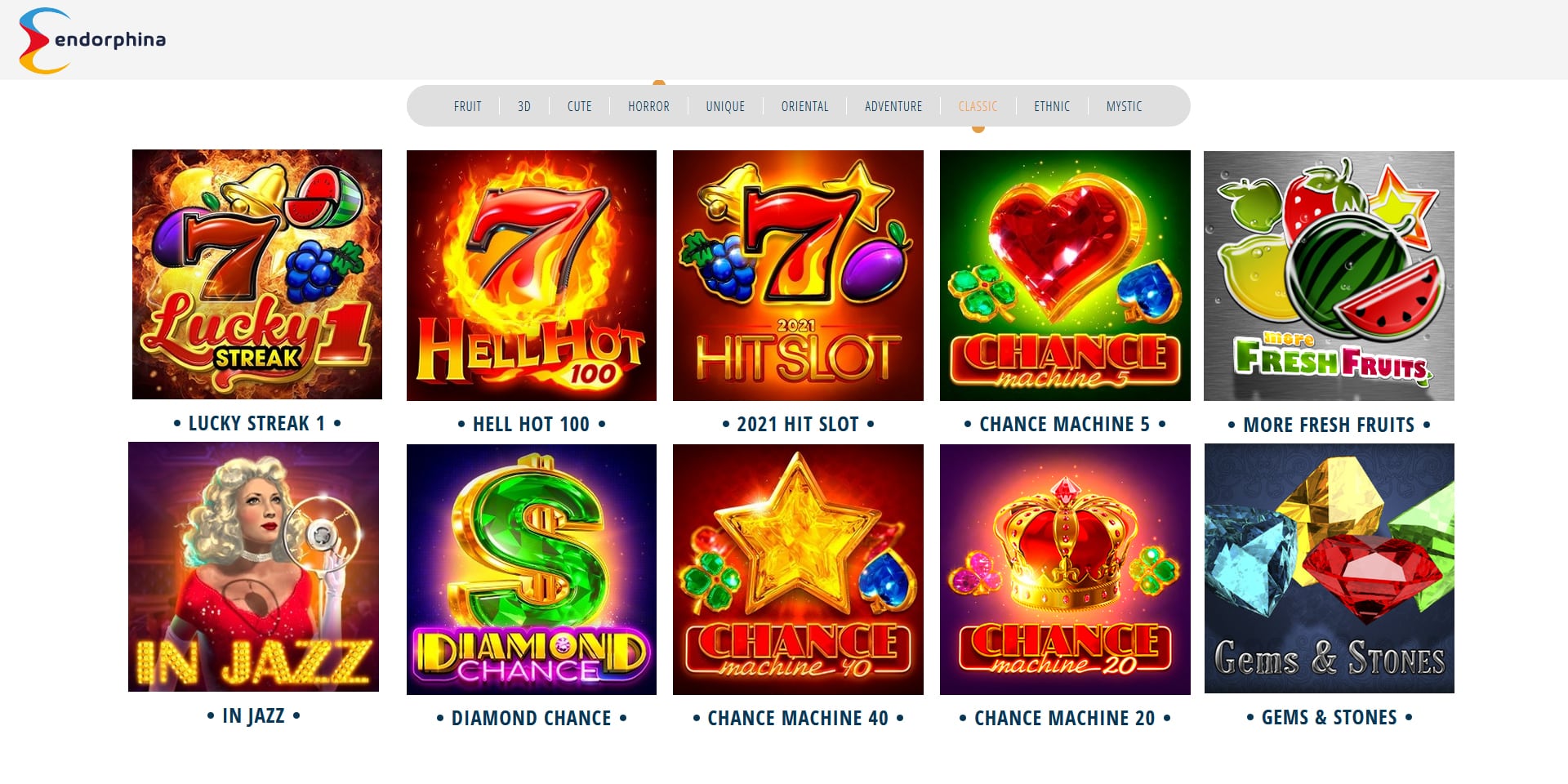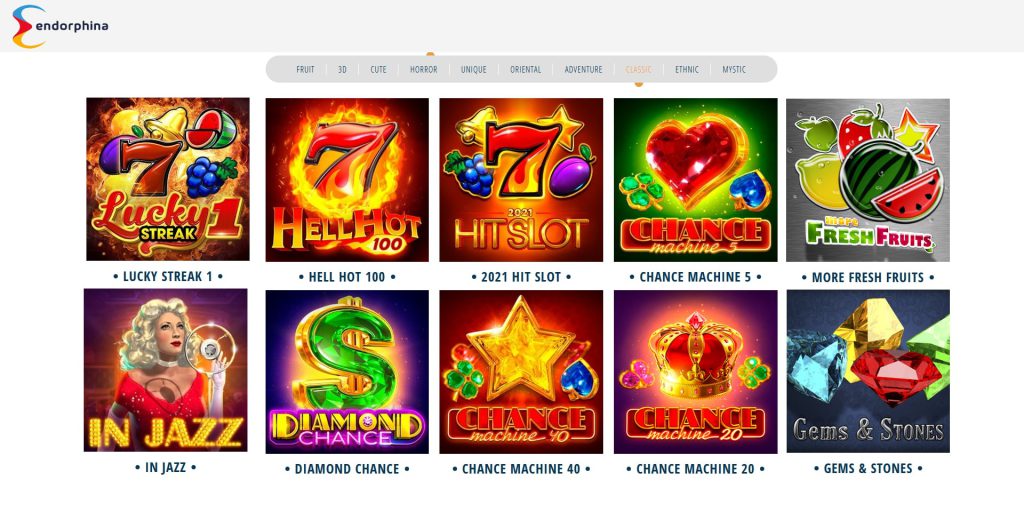 Classic slot machines. We don't call them classics because they're made up of cherries and BAR signs like the old slot machines, but because they're about themes that are classics in life. Slot 4 of a King is not a card game but a card-style slot machine; Gems and Stones are gems on the reels that have become classics and have settled into the gaming portfolios of providers NetEnt, Microgaming and Elk-studios. Also, in this category, you will find slot machines online about luxury living and wealth: #luxurylife, In Jazz, Jetsetter, Football Superstar.
Adventure slot machines. Stories of brave heroes and adventures in faraway lands come to life on the reels of slot machines. Here and mighty Vikings (The Vikings), and dexterous ninja (The Ninja), and desperate treasure hunters (Mystery of Eldorado), and mythical characters from the deep sea (Undine's Deep). Players can find themselves fighting alongside superheroes (Blast Boom Bang) or nomadic warriors (Mongol Treasures), as well as being taken on safari or to an ancient temple (Pachamama).
Ethnic slot machines. Endorphina is regularly adding these casino slots to its collection of games. The historic Almighty Sparta and Urartu, the mysterious Dia De Los Muertos and Tribe, and the beautiful Chunjie and Cuckoo have become favorites with many casino players. Asian slots stand out in this category, including The Emirate, Durga, and games about Japan (Geisha, Sushi, Origami).
Mystical slot machines. For gamblers who love fairytales and legends, make sure you get slot machines that feature vampires (The Vampires), fairies (Fairy Tale), and other less friendly creatures (VooDoo, Minotaurus).
Unique slot machines. This category includes slot machines that are difficult to find similar. For example, Diamond Vapor is about smoking a vape, and Twerk is about dancing. The Taboo is a sensual slot about the forbidden or Satoshi's Secret about the world of hackers, bitcoins, and blockchain. Here, you will see video insertions and 3D graphics, which create a unique atmosphere and gaming experience for users. 3D games include The Ninja, Fairy Tale, Tribe, Chunjie, and Minotaurus.
Popular Endorphina slot machines
To play each Endorphina slot machine requires a lot of time because each of them is interesting in its way and does not let go after a spin or two. We can say that players who have already played old and new providers' slots list the following games as the most popular.
Satoshi's Secret slot machine is the first game that gamblers can play with bitcoins. In addition, the online slot offers players 6 reels and two bonus games.
The Trading Bonus slot machine is a Gamble game triggered by 4 bonus symbols on the reels. The second bonus game, called Qwerty Bonus, starts with a roll of QWERTY on the reels, allowing you to "hack bank accounts".
Fairy Tale slot machine. The game isn't just about fairy girls. It's about winning as well, as it's packed with every possible slot feature. The 20-line and 5-reel slot machine have standard wild and scatter symbols and offers a free spin round, multipliers, and a Gamble game. In addition, the gameplay is complemented by 3D graphics, so you can not miss this game.
Durga slot machine. Video slot, which is inspired by Indian mythology. Good and evil are fighting on a 5-reel slot with 40 pay lines. The appearance of 3 scatter symbols on the reels guarantees the launch of a round of free spins. The player can choose the number of free spins – 28, 16, 11 or 7 and their respective multiplier x1, x2, x3 or x5.
Jetsetter slot machine is about luxury living, sports cars, expensive yachts, and luxury casinos. The casino player can use the scatter symbol to unlock up to 20 free spins of 5 reels in this game. Jetsetter is also equipped with a Gamble feature that allows you to increase every amount you win.
The Taboo slot machine is not only an online slot with a provocative theme but also a chance to win the jackpot. A roll on the reels of this slot with 3 or more scatter symbols triggers the Trisleke Wheel, which allows you to win multipliers. The second Red Room bonus game is 5 levels, whereby moving from one to the next, players learn more about the game and increase their winnings.