Last updated on March 30th, 2022 at 03:11 pm
Free pokies – what are they?
A pokie (also known as a slot machine or one-armed bandit) is a mechanical or electronic device that allows you to bet on certain game outcomes by inserting money – usually on getting the same symbols in a row. This type of entertainment game can be played in amusement arcades and online in gaming arcades for some years.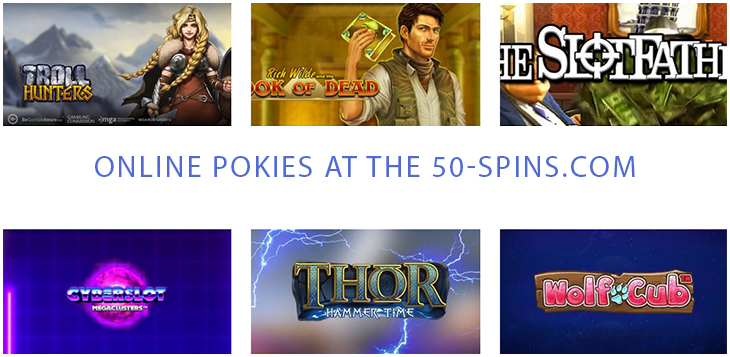 Online pokies are usually structured like this:
Several rows of spinning reels.
These are filled with symbols.
Different game symbols. For example, in classic games, these are fruit, 7 or BAR symbols.
Buttons to operate the game.
This is how you play pokie machines:
You get a first impression of the game (information in the "Menu").
Determine the bet amount and make other game settings – such as the number of pay lines.
Start the game (online with the "spin button").
The reels spin and stop randomly, rearranging the symbols.
You get your winnings if the symbol combinations are correct. You can play again, choose another one or leave the game.
How to become a winner in online pokies
It is not complicated to play online pokies or in arcades. However, there are some basic principles to keep in mind when playing.
Talking about symbols that take to make a winning combination, this can vary from game to game. There are pokies with symbols that already bring winnings in duplicate – but often, there are at least three symbols.
What almost always applies: In most casino games (also in Australian pokies), identical symbols must fall on the reels from left to right in a certain sequence – without interruption, of course. Pokie machines often specify certain arrangements, so-called pay lines, the number of which is fixed or freely selectable. The following applies to freely selectable pay lines: The more pay lines are activated in a slot machine, the higher the stake.
Special rules and special symbols
Modern free online pokies are often equipped with special symbols that make playing even more varied. Certain extra functions and features such as free spins are also particularly sought after online by real slot lovers.
Online pokies terms at a glance

These are the special symbols and features you need to know about.
Wilds. These symbols are as versatile as a chameleon! They can replace missing symbols for winning combinations or take on their role. For example, you only have two correct symbols instead of three, but a wild occupies the correct symbol field on the third reel? Then the wild symbol makes you a winner!
Scatter. These symbols can be the trigger for special moments of luck. You win in the correct number in many online pokies regardless of position and trigger free spins.
Free spins. As the name suggests, these are free spins. These are usually triggered by scatter symbols and often bring bonus functions (for example, bonus symbols or multipliers). One thing is for sure: you can be especially happy if you become a winner in free spins – especially if you manage to win free spins in a row!
Mega pots. The pot of extra wins that everyone wants to empty. However, this function is only offered in some online slots. It is usually triggered by special symbols or randomly.
RTP. The payout ratio of pokies ("Return to Player"). This term is used by gambling houses and gaming providers to describe the percentage of the staked money that is won back in online pokies over a longer period.
Gamble. This function makes it possible in many pokies to bet round winnings again – for "double or nothing". Most of the time, these are mini-games in which you have to guess the right card color, for example.
However, even risk-averse Aussies casino players should be aware that playing with "gamble" does not always make you a winner and can result in the quick loss of considerable round winnings.
The most popular online pokies from 50-spins.com
Now that you know how pokies work, we'll give you an overview of the special games that await you online at this website. In doing so, we highlight the pokie machines that are most popular with players.
Book of Ra deluxe: Play the king of online pokies. The legendary adventure game takes you to Egypt. There you decipher valuable hieroglyphs and dive deep into the mystical world of the sun god Ra. Especially the book symbol is cult among players and has already produced many happy winners. By the way, at 50-spins.com you will find a wide range of Book of Ra games online – for example, with two sets of reels (Book of Ra deluxe 10).
Play original free pokies and cool classics online
Whether it's the iconic lucky charm symbols in Lucky Lady or the ingenious Vegas feeling in Sizzling Hot deluxe: 50-spins.com offers a multitude of original Play'n Go, Microgaming, and much more games that have already caused a stir in arcades around the globe. Our content focus is primarily on the Australian online pokies, popular among casino games fans. These online pokies developed by the NetEnt, are characterized above all by their special user-friendliness, no downloads, their innovative game design, and an unparalleled variety of themes. A lot of them you can play with no registration on our website or in the FairGo casino. Thanks to our diverse portfolio of online pokies, there is something to suit every taste. You can find the games here on our slot machines page, where all games are listed.
Play a new generation of online pokies
Experience spectacularly innovative game design and gameplay on the Who Wants to Be a Millionaire as well. As you can see, the pokies world at 50-spins.com also offers room for exciting new developments. And there is much more to discover!
How safe are online pokies at 50-spins.com?
The safety of free online pokies depends mainly on where you play. 50-spins.com is an online gaming house where you can play with no registration or downloads. You can also feel safe playing online for free. Besides, we have a list of Australian casinos with some tools developed primarily for responsible gaming and more efficient player protection. Here are some examples:
A "Reality Check" function helps you online not forget when playing and always keep an overview.
Five-second intervals during spins.
Periods for the hold to help you regain your composure.
A monthly deposit limit of 1000 euros, only the fun of playing is in the foreground.
Betting and time limits when playing.
A block on the "autoplay" function and progressive jackpots.
Tips on how to play more consciously online
Understand games
Find out exactly how online pokies work and read through the detailed in-game description to know about special features and the most popular and important symbols. This will help you get a better feel for whether a slot machine suits your taste or not.
Plan your bets
It's nice to be a winner. But: when you enjoy our games, your main concern should be to have fun. Therefore, divide your available gaming budget well and consider how much risk you want to play with. You should always be aware that you could also lose your bets.
Take breaks
When playing, make sure you don't lose track of time. These functions, such as the "Reality Check", will help you with this. A tip: Set yourself a personal time limit before you start playing and stick to it! This way, you keep control while playing and can concentrate on what counts: Having fun
FAQ: Important questions about online pokies
Which game pays best?
It is advisable to pay attention to the payout ratio (RTP) to find out. The higher this is, the higher the percentage of a slot machine paid back over a long period. Otherwise, the following applies: Pokies are games of chance, and therefore, in the end, chance decides whether you become a winner.
Which online pokies are the best?
Here, the individual taste of a player is decisive. If you prefer adventure pokies, choose the Book of Dead. If you like classics, the online pokies Twin Spin is recommended. Also, one of the most popular pokies hits among players: the Moon Princess! At 50-spins.com, there is something for every taste – so you are spoilt for choice.
How high is the probability of winning on online pokies?
Besides the payout ratio (RTP), one indicator for this is the volatility of a game. With low volatility, wins are frequent but usually lower. When volatility is high, the opposite is true.
How do online pokies work?
Explained: You bet an amount of money that a combination of the same symbols will form after a spin of the pokie reels. If this happens, you win. If this does not happen, you can bet on the next spin.
How long have pokies been around?
The first slot machine in history was the "Black Cat". It was developed by the Caille brothers in 1889 and already had a characteristic shape. The first online pokie appeared with the early online gaming arcades around 1990 and has developed steadily since then.
Can I win real money at online pokies?
In contrast to providers with virtual game currency, 50-spins.com is an online gaming website with free pokies. Therefore you can try your luck online with real stakes in online casinos like RedStag or Slotocash.
What pokies are available at 50-spins.com?
On our website, we primarily combine the popular free online pokies from different game providers. In addition, you can read reviews and watch how we played before you decide which pokie you want to play. In addition to the browser version, this is also possible on a smartphone or tablet.